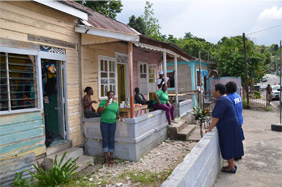 The Office of the Political Ombudsman (OPO) was established as a commission of Parliament, to conduct investigations in accordance with the provisions of the Political Ombudsman (Interim) Act, 2002.
The Ombudsman is an official appointed by the Governor-General by instrument under the Broad Seal after consultation with the Prime Minister and the Leader of the Opposition. The Political Ombudsman has a significant degree of independence, and is charged with representing the interests of the public by investigating and addressing complaints reported by individuals.
Section 12 of the Political Ombudsman (Interim) Act, provides that the Political Ombudsman shall investigate any action taken by a political party, its members or supporters, where he is of the opinion that such action: a) Constitutes or is likely to constitute a breach of the Code of Conduct agreed on and in force between or among political parties in Jamaica. b) Is likely to prejudice good relations between supporters of various political parties.
OPO conducts investigations in accordance with the provisions of the Act. Provisions are to be made in the Constitution for the establishment of a Political Ombudsman in terms which protect the Office in accordance with the procedures prescribed by section 49 (2) of the Constitution.
The Ombudsman will conduct investigations into actions that she believes constitute or are likely to constitute a breach of the Agreement and Declaration on Political Conduct (the Code). The Code was agreed on and remains in force between the People's National Party, the Jamaica Labour Party and all other legitimate political parties in Jamaica. The Code specifies certain standards for politics and is intended to promote a political culture which places emphasis on the propriety, correctness, transparency and honesty of political parties, their officials and adherents behaviour.
The Joint Agreement and Declaration on Political Conduct: The signatures of the Leaders of the respective political parties bounded all officials of that party to the following:
• To uphold the law as a duty and to support the security forces in the lawful execution of their duties.
• To respect the rights of others, especially functionaries of contending political parties in their conduct and activities
• To not discriminate against any individual, group or community on the basis of political allegiance or support by reason of virtue of their positions and having control or influence over the appropriation of public funds or other public resources, should.
• To seek to represent at all times the interests of their constituents in particular and those of the nation as a whole.
• To unequivocally reject the use of violence and of intimidation in the conduct of their activities.
• To repudiate any act of corruption in the discharge of their functions. By affixing their signatures they confirmed also their intention to uphold and defend the Constitution of Jamaica in a conscientious and impartial manner. The Political Ombudsman (Interim) Act and the Code govern politics in and out of election periods.
The investigations by the office are supported by Police Liaison Officers drawn from Police Divisions islandwide.