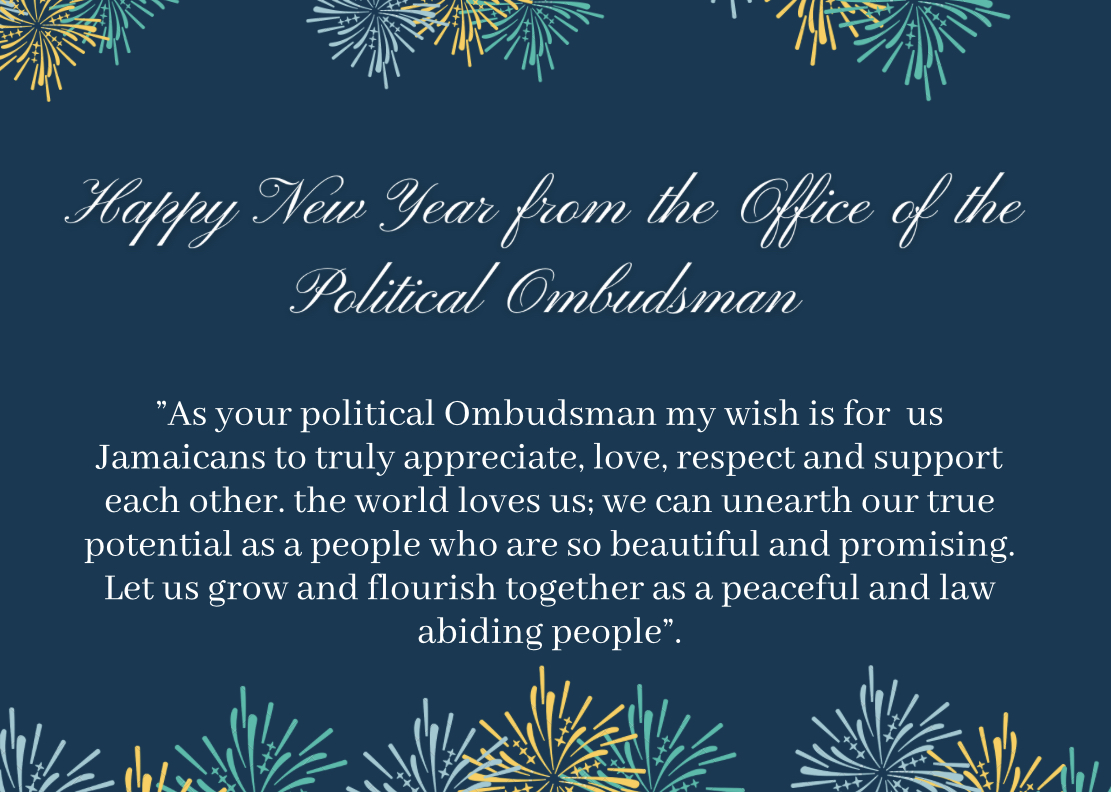 Posted on December 31, 2020
Posted on August 20, 2020
The Office of the Political Ombudsman is a fair and neutral Commission of Parliament tasked with the duty to investigate breaches of the Code of Conduct by political party members and their supporters.
I unequivocally condemn the attack made against the political activist on the team of Mr. Pearnel Charles Jr. in Clarendon early this morning. I wish him a swift and complete recovery. I encourage all Jamaicans to be reminded of our motto "Out of Many One People" and for us to strive to remain grounded and unified.
It is with regret therefore, that I have to comment on the statements made by Mr. Charles Jr. this morning on Nationwide 90 FM. My statement is on twitter. That deplorable act of violence is to be condemned by all as I said earlier. In these times all candidates knowing the impact of statements they make should ensure that they do not undermine the public confidence in Jamaica's democratic process when persons are already in a state of distrust.
I have already launched an investigation into the killing of Mr. Paul Henry and the JCF has issued a statement suggesting that they are also pursuing several leads not related to politics. The attack this morning to another JLP worker is being investigated by this Office and the Police.
I will be on the ground this week.
Posted on August 18, 2020
An article in the daily Gleaner of August 17, 2020 refers.
I received a report on the matter from Councillor McDonald of the Toll Gate division on Saturday
August 15 at 8:56 p.m. He advised that the JLP candidate for Clarendon South Western, Mr Kent Gammon and his party was prevented from campaigning in Havanna Heights by PNP supporters who were in the road shouting and making it hard for vehicles to go through. I met with candidate Mr Cousins by telephone at 3:30 p.m. on Sunday August 16. He confirmed that the conduct of supporters was unacceptable and that he had visited the community and advised the citizens that all candidates and their supporters should be free to enter the community and should not be impeded in any way.
Mr Cousins agreed to advise Councillor McDonald of the corrective action taken. The Office of the Political Ombudsman informed Councillor McDonald, who was aware that Mr Cousins had visited the area of this incident, at 4:06 p.m. on Sunday August 16. There was no report of any physical threat against any individual.
The matter is closed.
Posted on August 4, 2020
I recently had a conversation with a gentleman who stoutly defended the practice of 'vote buying' as simply voters taking advantage of a business opportunity.
Previously I have spoken to a few other Jamaicans who asserted that they only want their $5,000 payment and that corruption is not a big deal.
Jamaica's political leaders in the Parliament have passed legislation to assert their opposition to corruption, to vote buying by whatever means and to make such actions subject to fines and penalties, as well as promoting a Code for corrective actions by political party leaders on the Recommendation of the Political Ombudsman under the Political Ombudsman (Interim) Act, which can be viewed at www.opo.gov.jm.
Corruption simply means doing or failing to do any act so as to obtain an illicit benefit for the person or someone else.
Corruption, according to a recent poll is only of concern to 7% of the public. This either means that the moral, ethical, social and economic eyes of our people are not working or we are resigned to become a country where wrong doing by the 'bigger heads' is fine and we accept our position as being unworthy of the respect and honest service of those we elect and employ.
Each case must be looked at and dealt with forcefully and without excuse. Reference to how previous or other acts of stealing from the public of our money, our land, our equipment, our rights is a red herring or smoke screen which lines up partisan interest and responses so to prevent full action.
The Representation of the People Act (www.japarliament.gov.jm) which had the support of both major political parties in its passage through Parliament, provides at S70 for a number of election offences.
Section 91 makes bribery treating and undue influence, offences punishable on summary conviction before a Resident Magistrate (now Parish Judge).
The penalty at S93 for each offence is a fine of between twenty thousand and eighty thousand dollars or imprisonment with or without hard labour for a term of three to five years.
Bribery S91 – including (directly or indirectly by yourself or an agent) means inducing– any person to vote or refrain from voting in exchange for a benefit.
Treating S91 – includes every elector who corruptly accepts food, drink, entertainment or provision in exchange for voting or refraining from voting.
Undue Influence S94 – includes impeding or preventing free exercise of the right of any person to vote by threat, force, duress etc.
These provisions give legal force to the provision set out at Apendix 1 in the Agreement and Declaration on Political Conduct (Code), www.opo.gov.jm which provides inter alia:
85a Duke Street, Kingston, Jamaica, Tel. 876 922-8653/922-0317 Email: politicalombudsman@opo.gov.jm NEW www.opo.gov.jm
1.(f)(i) Candidates or others acting on behalf of candidates:
Must not use funds derived from any source, public or private to improperly influence electoral choices
The use of unauthorized public and road works such as playfields, bushing, marling are opportunities for candidates and their surrogates to put money into the hands of potential voters under the guise of employment and to suggest to the voters that road and other works are a down payment being done to encourage them to select the candidate involved.
These actions and other breaches of the Code and law, should be reported to the Political Ombudsman, the Electoral Commission, Integrity Commission or the Police as appropriate, so that action can be taken through party leaders and the Courts to hold those in breach to account.
I wish every Jamaican a renewed sense of confidence, honour and duty towards Jamaica Land We Love as we celebrate our Emancipation and Independence.
Posted on July 24, 2020
The OPO believes that every citizen has the responsibility to participate in the building of a free and just society, rooted in the central and uninfringeable dignity of a person. The youth, as part of the citizenry, must have a voice in decisions that affect them and as they become stakeholders and change agents in their communities and organizations, they bring perspectives, knowledge and relationships that lead to better decisions and more productive action.
Jamaica has a wealth of social and national organisations dedicated to promoting youth interests. These organizations form a network of knowledge sharing and learning. It is through youth engagement that the skills of active citizenship that contributes positively to the strengthening of society are taught.
The Political Awareness and Respect Initiative (PARI), is a key element of the Office of the Political Ombudsman's (OPO) public outreach campaign, and comprises a team of young people who have agreed to collaborate with the OPO in undertaking to engage with their peers to work towards strengthening Jamaica's democratic architecture, as well as to get them to speak on issues around politics, democracy, good governance and the Rule of Law.
Among the fundamental expectations of the collaboration are:
An increased public awareness of the Office of the Political Ombudsman and its mandate.
Building and strengthening partnerships with other youth organizations, national groups and informal associations.
Promoting youth participation in governance
PARI was developed jointly by the OPO and key youth leaders following consultations since 2016. PARI members were selected from social and national groups the three counties of the island, Cornwall, Middlesex and Surrey. These groups included the National Youth Parliament of Jamaica (NYPJ), National Youth Council of Jamaica (NYCJ) and the Student Unions from numerous Universities. The main criteria in considering eligibility for membership is age. A potential member must be between the ages of 17years to 30 years.
In March 2020 the group met and established Rules of Engagement, Expectations and Key Strategies for advancement.
Rules of Engagement
The following were agreed on:
Meetings to be held once monthly
A Whatsapp group created to facilitate communication outside of meeting times.
Correspondences to be sent via email following notices in the Whatsapp group.
To actively engage with the various social media platforms and website of the OPO.
Key Strategies:
A 4 week listening tour (face-to-face and on social media platforms), to ascertain the needs and interests of target audiences;
An outreach program focused on soft-selling key messages about democracy through group engagement (Quizzes and Sketches)
Training for PARI leaders on effective presentation skills, active listening and reporting.
Action Points:
To strengthen partnership between the Office of the Political Ombudsman and the Commonwealth Secretariat
Engage in strengthening democracy
Assist youths in learning to build up institutions
Posted on March 24, 2020
Political Ombudsman, Donna Parchment Brown, commends the Parliament on the development of a bipartisan committee in the face of Covid19.
"We need all hands on deck. No green or orange shirts now but Jamaicans caring for one another pooling our minds and divergent ideas for good".
Posted on February 19, 2020
Candidates for March 2 By-Election sign Political Code of Conduct
Candidates for the upcoming by-election in the constituency of Clarendon South Eastern affirmed their commitment to good governance and to fair campaigning by today signing the Agreement and Declaration on Political Conduct (the Code).
Messrs Pearnel Charles Jr, Jamaica Labour Party and Dereck Lambert, running as an Independent, both signed the code, along with their campaign managers.
The Code governs the actions of both of the major political parties and all other legitimate political parties in Jamaica. It applies to all political players.
Mr Stanhope Porteous, Justice of the Peace officiated at the ceremony, joining Jamaica's Political Ombudsman the Hon. Donna Parchment Brown.
"As an independent and neutral Commission of Parliament, it is the OPO's job to hold politicians to account on behalf of Jamaicans," Mrs. Parchment Brown said. "These standards which they are committing to uphold reflect the very best in political behaviour, which all political actors should strive for, on behalf of the voting public."
The Office of the Political Ombudsman is responsible for promoting and ensuring that standards in politics are understood and followed. In 2020, the Office is expanding an awareness campaign to youth and developing a social media guide to act as a supplement to the Code of Conduct.
Posted on February 7, 2020
The key to success of our democracy, is to treat every new generation of voters with respect, understanding what motivates their activity and inactivity in political life. Jamaicans can demand more from their politicians.
Read more at Magazin Electoral
Posted on January 22, 2020
Kicking off a 2020 awareness building campaign, Jamaica's Office of the Political Ombudsman (OPO) met today with the Jamaican Constabulary Force Liaison Officers from across the island.
The JCF Liaison Officers play a key role as the OPO's partner, investigating potential breaches of the Code of Conduct, and keeping the OPO informed of queries and complaints lodged by the public.
Today's meeting focused on the roles of both the Ombudsman and the JCF and how, together, they can work to promote political harmony and ensure adherence to the laws and the Code of Conduct that politicians created and agreed to abide by.
"It is our job, as a neutral and independent Commission of Parliament, to hold politicians accountable on behalf of all Jamaicans," Mrs Parchment Brown said.  We can't do this alone, we need to work closely with all of our partners and other community leaders, and that's what today is all about – working together for a better Jamaica."
JCF Liaison Officers reviewed the Code of Conduct, guidelines on how to best communicate with the Ombudsman's Office, and how they can keep the OPO abreast of activities in their parishes.
Deputy Superintendent Williams, the Senior JCF Liaison to the OPO, attended the meeting and noted that "a key part of our work during campaigns and elections is making sure citizens and residents feel safe, and are aware of their rights, by sharing information with them about what they can expect from the JCF and the Office of the Ombudsman."
The morning session was designed to sensitize JCF Liaison officers in advance of national and local campaigning and elections.
Posted on April 17, 2019
The Office of the Political Ombudsman officially launched its website on Thursday (April 11), which offers various features to encourage greater public engagement with the office.
The website, created by the Jamaica Information Service (JIS) adds to the entity's already existing online presence on Facebook, Instagram and Twitter.
Visitors to www.opo.gov.jm will be able to get news, notices and alerts, information about political code of conduct signings, elections and pieces of legislation.
"Users will also be able to upload videos and participate in meaningful discussions on important topics," Political Ombudsman, Donna Parchment Brown told JIS News.
She said the website will serve to "provide visitors with an easier way to interact with the office and provide information, which is easily accessible." Persons will be able to register a complaint anonymously.
Mrs. Parchment Brown noted that the website addresses issues such as "defamation, which is becoming more prevalent in the digital space… vilification of opponents, fake news and a general deterioration in public discourse."
"Our democracy will benefit from your interaction with this site," she noted.
Assistant Executive Director at the Broadcasting Commission of Jamaica, Karlene Salmon, who addressed the website launch, commended Mrs. Parchment Brown on undertaking the initiative.
She noted that the website will boost communication and engagement, which will help to further good governance.
"Communication and information are the blood and oxygen of a vibrant democracy," she said.
The Office of the Political Ombudsman, which was established under an Act of Parliament in 2002, has statutory responsibility to oversee and investigate adherence to Jamaica's Code of Political Conduct.
The office conducts investigations into allegations of political breaches, and hosts regular discourse on matters such as political campaigning, de-garrisonisation, women's participation in politics, good governance, among others.