Category:
Speeches and Presentations
Posted on November 19, 2019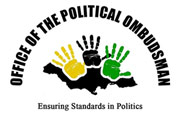 Posted on November 7, 2019
Master of Ceremonies
President: Ms Suzanne Brown
Other officers of the Optimist Club of Manor Park
Members of the club
Guests
Good evening to you all
I am pleased to be here sharing at this evening's installation of officer's event. Thank you for your invitation.
Optimists tell us that you have discovered through service that often the most important things we have to offer are not things at all.  You will all agree that it is through service that the full range of resources at the disposal of every one of us – our time, our presence and our attention are uncovered. I share these sentiments. It is through service that we begin to recognize that the ability to give stems from a state of mind and heart, a place much deeper than the material. Inspired by the possibilities this opens up in every moment, we too must discover and use humble opportunities to serve – everywhere.
Optimist Club of Manor Park epitomizes high ideals in promoting the purpose of the organization and all that it symbolizes:
to accelerate active interest in good governance;
to plan and carry out needed community service activities;
to inspire respect for the Rule of Law;
to promote patriotism;
to aid and encourage all activities and measures that contribute to a better future for the youth of Jamaica, to the extent of each member's ability, both personally and as organized Optimists.
Elements of your ideals are part of the fundamental principles of the mandate of the Office of the Political Ombudsman.  This evening I want us to briefly consider the importance of the Rule of Law in democracy building.
We join you in doing this work for the love not for the likes, as we urge our politicians to serve for the love not just for the likes (votes). By believing in young people and empowering them through your positive service projects you have had numerous successes in making this world a better place to live, one child and one community at a time. The many projects undertaken by you over the years and those you will embark on; demonstrate your vision, connectedness and generosity. We long for more service from all of us.
Your projects in underserved communities have not only been successful in generating a sense of belonging, but have facilitated harmony among the residents and an improved sense of self-worth and capacity. Your ongoing relationship with the North Street Primary School in providing textbooks and uniforms and the annual health fair are but a few examples of your care. I applaud the work your club is doing with the students through your youth appreciation week of activities that include A Day on the Job and Education Talks.
Mentoring which you offer at the Wortley Home for Girls has served as a growth and empowerment tool, creating an environment of connection and trust. These elements are crucial to the process of community building.
You have collaborated, taken responsibility and engaged with the local environment, other partners and stakeholders and have created a prime example of what 'citizen culture' embodies.
The Rule of Law is one of the most important defining characteristics of democracy.  As citizens of a democracy we choose our leaders and representatives through elections, but it is the rule of law that defines the relationship between us and our political representatives outside of elections.
The rule of law was first codified in Western European government in the Magna Carta in 1215, when English nobles demanded that King John's powers to arbitrarily arrest or imprison them be curtailed. The charter states that even the King had to follow the law:
No free man shall be taken, imprisoned, disseized, outlawed, or banished, or in any way destroyed, nor will he proceed against or prosecute him, except by the lawful judgment of his peers and the Law of the Land.
There are four core principles of the rule of law, as defined by the World Justice Project, which measures respect for Rule of Law in countries around the world:
The government and its officials and agents as well as individuals and private entities are accountable under the
The laws are clear, publicized, stable, and just; are applied evenly; and protect fundamental rights, including the security of persons and property and certain core human rights.
The process by which the laws are enacted, administered, and enforced is accessible, fair, and efficient.
Justice is delivered in a timely way by competent, ethical, and independent representatives and neutrals who are of sufficient number, have adequate resources, and reflect the makeup of the communities they serve.
A practical example of the importance of the rule of law for democracy building is the fact that the rule of law is a fundamental principle contained in most modern democracies.
It is vital for the achievement of our National plan, Vision 2030 that you are:
– Informed and engaged leaders
– Reading and listening to the news
– Using information resources and acting on data and evidence in your public life as you do in your jobs.
Jamaica's Constitution is our fundamental and highest law, and the rule of law dictates the enforcement of those principles above all other laws.
Jamaica's national elections are due by December 2020 for Local government and by February 2021, for the Parliament. I trust that you are all registered electors and will be able to exercise your hard won right to vote.
I hope you will be proud of our candidates and that the majority will conduct themselves like you, with grace, dignity, fun and information.
Some of you are business people and if you are holders of government contracts, remember that you must file a report within fourteen days if you give a donation to a candidate.
Electoral justice provides another example of the link between democracy and the rule of law.
Electoral justice ensures that every action, procedure and decision related to the electoral process is in line with the law and that the enjoyment of electoral rights is protected and restored, giving people who believe their electoral rights have been violated the ability to file a complaint, get a hearing and receive an adjudication. An electoral justice system is a key instrument of the rule of law and the ultimate guarantee of compliance with the democratic principle of holding free, fair and genuine elections.
This also covers campaigns and the period of government operations between elections.
The Office of the Political Ombudsman was established to conduct investigations in accordance with the provisions of the Political Ombudsman (Interim) Act of 2002 and investigates any action taken by a political party, its members or supporters, where he is of the opinion that such action:
(a) Constitutes or is likely to constitute a breach any Code or agreement in force between or among political parties in Jamaica or-;
(b) is likely to prejudice good relations between supporters of various political parties.
The Agreement and Declaration on Political Conduct (Code) was signed in 2005, as a public undertaking by our political representatives, to act in a particular way, to which the general public can hold them and their supporters accountable. In this way transparency and accountability – both of which are key ingredients/constituents in upholding integrity in public life – are encouraged.
The Code was agreed on and remains in force between the People's National Party and the Jamaica Labour Party. It binds all political officials, Senators, Members of Parliament, Councillors, Candidates and party officials. The Code specifies certain standards for politics and is intended to promote a political culture which places emphasis on the:
–  Propriety
– Correctness
– Transparency and
– Honesty of political parties, their officials and adherents behaviour.
The signatures of the Leaders of the respective political parties binds all officials of that party to the following:
To uphold the law as a duty and to support the security forces in the lawful execution of their duties.
To respect the rights of others, especially functionaries of contending political parties in their conduct and activities.
To not discriminate against any individual, group or community on the basis of political allegiance or support by reason of virtue of their positions and having control or influence over the appropriation of public funds or other public resources.
To seek to represent at all times the interests of their constituents in particular and those of the nation as a whole.
To unequivocally reject the use of violence and of intimidation in the conduct of their activities.
To repudiate any act of corruption in the discharge of their functions.
By affixing their signatures, party leaders confirmed also their intention to uphold and defend the Constitution of Jamaica in a conscientious and impartial manner. The Political Ombudsman (Interim) Act and the Code govern politics in and out of election periods.
Jamaica is a land of Optimists, we say:
"Jamaica no problem…"
"Gratitude is a must, thankful" – Koffee
My compliments to each of you and best wishes for a most successful boononoonous year.  As newly installed officers you have been elected to a position of trust and responsibility through your demonstration of strong leadership skills and devotion to the club.
By your election, the club has expressed confidence in your ability to promote its values and to be the creator of the change that you want for Jamaica.
I thank you for your kind attention and again every good wish to the officers and members of the Optimist Club of Manor Park.