Code Signing for Clarendon SE By-Election
Posted on February 19, 2020
Candidates for March 2 By-Election sign Political Code of Conduct Candidates for the upcoming by-election in the constituency of Clarendon South Eastern affirmed their commitment to good governance and to fair campaigning by today signing the Agreement and Declaration on Political Conduct (the Code). Messrs Pearnel Charles Jr, Jamaica Labour Party and Dereck Lambert, running… continue reading
Political Ombudsman Conducts Training with JCF
Posted on January 22, 2020
Kicking off a 2020 awareness building campaign, Jamaica's Office of the Political Ombudsman (OPO) met today with the Jamaican Constabulary Force Liaison Officers from across the island. The JCF Liaison Officers play a key role as the OPO's partner, investigating potential breaches of the Code of Conduct, and keeping the OPO informed of queries and… continue reading
Ombudsman Spells Out Goals for Promoting Integrity
Posted on October 31, 2019
Abuja, Nigeria (October 30, 2019). "Our Office exists so that the public can get the benefit of the resources that belong to them." The Hon. Donna Parchment Brown talks about integrity in politics.
Youth Parliament Members Sign Code of Conduct
Posted on October 18, 2019
Montego Bay (October 18, 2019) –  All 100 members of Jamaica's National Youth Parliament today signed the Agreement & Declaration on Political Conduct, informally known as 'the Code,' designed to enhance and promote standards in political life, in a ceremony presided over by Jamaica's Political Ombudsman, the Hon. Donna Parchment Brown. The ceremony was part… continue reading
Forum of Young Leaders
Posted on October 8, 2019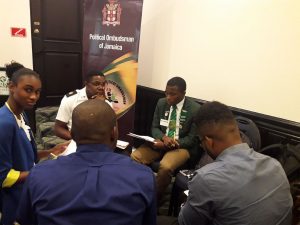 On September 20, 2019 the Office of the Political Ombudsman held a meeting with 17 youth leaders from across Jamaica. Click here to see what they discussed and what they are doing about it.
Sub-Regional Experience Sharing Workshop on Building & Sustaining National Dialogue & Peace Structures
Posted on August 7, 2019
Over the last several weeks, Jamaicans have expressed various opinions on a tweet posted by the President of the People's National Party Youth Organization, Ms. Krystal Tomlinson, which referenced actions by Jamaica's Prime Minister as reminding her of Hitler. Ms. Tomlinson issued an apology within hours, however, it did not find favour with the Jamaica… continue reading
What of Campaigns and Campaign Financing?
Posted on July 18, 2019
"Let's draw the line in the sand now" Jamaica's last General Elections were held February 2016 followed by the national Local Government Elections and several By Elections in 2017, 2018 and 2019. We are now midway in the 5 year General Election cycle and it behooves us as citizens, candidates and political parties to know… continue reading
The Office of the Political Ombudsman hosts Focus Groups with Commonwealth Secretariat
Posted on June 10, 2019
In seeking to advance its efforts at political engagement of the public and politicians in dialogue, the Office of the Political Ombudsman, earlier this month, hosted a team from the Commonwealth Secretariat. Head of the Secretariat's Good Offices for Peace Governance and Peace Directorate and her colleagues, met with the Political Ombudsman and various… continue reading
Political Ombudsman, Hon. Mrs. Donna Parchment Brown, CD, JP, signs the condolence book
Posted on June 10, 2019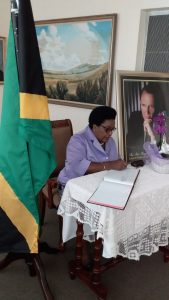 Political Ombudsman, Hon. Mrs. Donna Parchment Brown, CD, JP, signs the condolence book at George William Gordon House, for former Prime Minister, Most Hon. Edward P.G. Seaga, ON, PC Mr Seaga was a signatory to the Agreement and Declaration on Political Conduct document of 2002 – the precursor to the current Agreement and Declaration on… continue reading
Office of the Political Ombudsman Social Media – Politics
Posted on January 18, 2019
Posts on Social Media are part of the public space Political parties, officials and surrogates are not immune to findings of defamation, incitement, malice, provocation, volatile confrontation or increasing of tension by their posts. The language, product, actions and reactions on a social media platform must be responsible and just as accountable as in other… continue reading