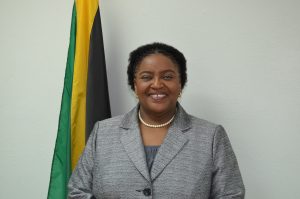 Hon. Donna Andrea Marie Parchment Brown, CD, JP, Notary Public
Honourable Mrs. Donna Parchment Brown, a daughter of St. Bess, was sworn in on the 16th day of November 2015, by the Most Honourable, Sir Patrick Allen, ON GCMG CD KStJ, to serve Jamaica as Political Ombudsman, pursuant to the Political Ombudsman (Interim) Act, 2002.
An Attorney At Law by profession, she is a graduate of Hampton School for Girls, the University of the West Indies, and the Norman Manley Law School. She was called to the Bar on October 8th, 1981.
Her work life has included the distinguished firm of Milholland, Ashenheim & Stone, The Prices Commission, The General Legal Council, the City of Kingston Cooperative Credit Union Ltd. and the Dispute Resolution Foundation. She was Director of the Justice Reform Implementation Unit in Jamaica's Ministry of Justice before becoming our Political Ombudsman.
Hon. Donna Parchment Brown was the Custos Rotulorum for the Parish of St Andrew, Chair of the Hampton School Board, a Director of COK Cooperative Credit Union and Vice President of the Jamaica Cooperative Credit Union League. She is a member of the St. Elizabeth Home Coming Foundation and the Kingston and St Andrew Development and Homecoming Foundation.
She has been a member of the St. Elizabeth Co-operative Credit Union Ltd. for over twenty two years, having joined in May of 1996.
Her parents JHD and Rosetta Parchment, now deceased, gave outstanding service to the people of St. Elizabeth.